The threat to your privacy looms large. Beyond encryption, if you want to ensure your data isn't stored anywhere, use these self-destructing apps to send sensitive information.
Even if you use the most secure apps, there is a chance someone might get sensitive or personal data at a later date because it was stored somewhere. If you want to send something without it being stored forever, try these self-destructing apps that blow up the message, once and for all. Of course, if you use Gmail, you can already send self-destructing emails with Confidential Mode, one of the best new Gmail features.
These apps have different uses. Some let you send a single message or even a message on Slack. Others use self-destruction to keep your system lean and make you productive. Pick what you need.
SafeNote (Web): Send Notes or Files, Choose When It Self-Destructs
SafeNote is the new kid on the block for self-destructing apps, and it's already doing everything right. Like all the other apps, it encrypts any note you write, or any file you upload. Then it creates a link, which you can share with the recipient.
What makes it better is that SafeNote lets you set when and how the link self-destructs. You can either set a time period (from one hour to one month) or use the option to delete the note immediately after it is read the first time. The latter is useful for one-on-one communication, while the time limit lets you share it with multiple users.
You can password-protect the link too. And you can choose to be notified when anyone opens the link, or when the note is destroyed. It's a simple, easy-to-use app that does everything right.
1ty.me (Web): One-Time Self-Destructing Links for Passwords
It's a bad idea to send a password for any account over email, instant message, or any such service. Instead, when you need to share passwords, use a self-destructing note like the ones created by 1ty.me.
Write your password in the notes field, and click the "Generate Link" button. You'll get a link that can be shared with anyone. The first time it is opened, 1ty.me will destroy the message forever from its servers. So there's no way to share this with multiple users, but at least you know it's not going to be stored anywhere.
There's an option to be notified when the link is opened. And 1ty.me warns the user before opening the link that it will be destroyed forever, so they should copy-paste the sensitive information immediately.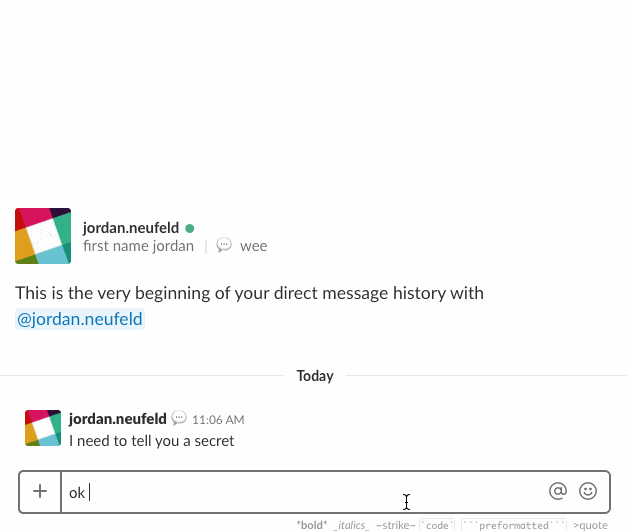 Slack has become the chat and instant messaging app of choice for most organizations. And in organizations, you often need to send sensitive information. If your IT guy or boss can find that later, it would be disastrous, right? That's why you need Secret Message.
This Slack integration adds the ability to send self-destructing notes to anyone in Slack. Once you add it, start a message with "/secret" (without the quotes). The recipient won't see it till they click the "Read Note" button. The note will be available till they refresh Slack, or they can immediately delete it too. It's a much safer and more private way to message on Slack.
Secret Message is as free and awesome as all our other favorite weird and wonderful Slack integrations. Try it out, you won't be disappointed.
Add: Secret Message for Slack (Free)
Confide (Android, iOS, Windows, macOS): Confidential Instant Messenger
If you want a full-fledged instant messenger that secures messages and auto-deletes them, as well as works across different desktop and mobile operating systems, check out Confide. It does most things right.
All messages are end-to-end encrypted. Also, no one can take screenshots of the app, which makes it even more secure. And all messages disappear forever once they are read. These features work across one-on-one chats as well as groups.
Confide lets you send photos and videos, and has premium features that allow unlimited attachments as well as the ability to "unsend" messages before anyone reads them.
Download: Confide for Android | iOS | Windows | macOS (Free)
Deelete (Chrome): Auto-Delete Downloads After 24 Hours
Not every self-destructing app is about privacy and security. Deelete, a Chrome extension by Organizely, uses such scheduled auto-deletion to declutter your hard drive from the many one-time-use files you routinely download.
All of us get emails with attachments that we need only once, or just for the day. But then they sit in our Downloads folder forever. Over time, this builds up into a cluttered mess, which might even be slowing down your PC.
With Deelete, every time you download an attachment or any file on the internet, you'll get a popup asking if you want to keep the file, or delete it in 24 hours. If you choose the second option, Deelete will ensure it removes the junk. It's a fantastic tool and one of the best Gmail extensions for Chrome that we've seen.
Download: Deelete by Organizely for Chrome (Free)
Obliviate Your Messages
These self-destructing apps are great to use on desktops or mobiles, and especially with emails or Slack. But if you want a secure self-destructing app for your chats, check out our homemade brew.
MakeUseOf made obliviate, a secret messaging app that auto-destroys messages. You can set a timer, and even destroy the message before it has been read. Check it out, you'll love obliviate.
Download: obliviate for Android and iOS (Free)
Read the full article: 5 Self-Destructing Apps to Send Secure Messages or Stay Organized